Continuing eighteen years of extensive collaboration and joint international growth, Eurofiber announces the renewal of its contract with Speer IT for the long-term deployment of Cocon for asset management and quality assurance of its network.
Eurofiber, the leading supplier and operator of infrastructure in the Benelux, France and Germany, and Speer IT, supplier of the asset management registration system Cocon, are thereby extending their strategic partnership.
COO and executive board member Eric Kuisch: 'For me, a good partnership is characterized by a number of things. Firstly, I believe that a good collaboration is characterized by a win-win situation for both parties. The second aspect that I find important is transparency: be open and honest with each other, especially in difficult times. And the third aspect is that a partnership must contribute to the strategic objectives of both organizations. That means you each have to know the other's organization and strategy well. I think Speer IT scores high on these points and I am very pleased with the extension of our partnership."
Far-reaching digitization
"The value of Cocon is in its contribution to this growth," confirms Steven Klockaerts, CIO at Eurofiber. "Cocon is more than just asset management; it is part of our journey towards far-reaching digitalization. We work with an IT blueprint and Cocon is one of the basic applications within that. It is a crucial element and a critical business application for us. Our network is our core asset and that makes Cocon of strategic importance to us."
"Asset management is becoming increasingly important to us. Our success is based on premium SLAs. If your asset management is of poor quality, then you can't deliver on the SLAs and that has negative consequences. In addition, poor asset management is a cost driver. If you don't have your assets in order, it costs you unnecessary time and money because the insights are not correct. But Cocon also plays a significant role in acquisitions. By deploying Cocon as a standard, we have a single basis and a single inventory that we can always rely on", adds Kuisch.
From startup to maturity
"Both companies developed from startup to maturity in the same growth period. Eurofiber started eighteen years ago with 30 Cocon users and 1500 kilometers of registered network. Now it is 430 Cocon and 500 CTW users and 60,000 kilometers of fiber. The joint international expansion in Europe is another aspect we are proud of. In these different stages, we have always done our best to support and to push each other. Where we have kept each other on our toes with mutual respect, and where together we have made innovation in our field possible. Without this partnership we would not have succeeded," explains Kees Jonker, CEO of Speer IT.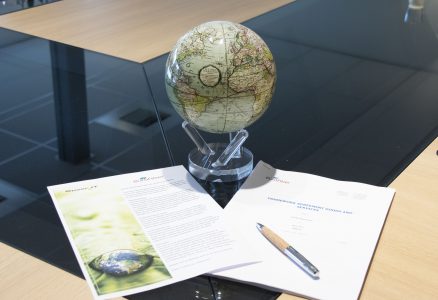 About Eurofiber
Eurofiber is a rapidly growing supplier of leading open digital infrastructures in the Netherlands, Belgium, France and Germany. We support the digital communities in the countries in which we operate with the aid of a 61,700 km fibre-optic network plus eleven data centres. We are proud of the trust that companies, government agencies and non-profit organizations place in us. We provide these organizations with connectivity and cloud infrastructure solutions tailored to their needs. Thanks to our open infrastructure we can guarantee complete freedom in the choice of services, applications and providers. For more information, visit eurofiber.com.
About Speer IT
Speer IT has been the leading provider of fiber optic registration software for over 20 years. As a market leader, Speer IT serves, in multiple countries, major international telecom companies such as Eurofiber, BT, KPN, DELTA fiber, Deutsche Glasfaser, Fiberready, ODF, Unifiber and many more. Our team consists of over 50 passionate professionals who all have extensive experience in the telecom world and continue to develop the Cocon Fiber Platform. In addition, Speer IT has been ISO 9001 and ISO27001 certified for over ten years, the standard for quality management and information security.
Speer IT does not only have a heart for the business, but also for each other and the world we are allowed to live in. Sustainability is a high priority. We have full insight in our Carbon Footprint and as Speer IT are active in several CO2 initiatives.